Let It Snow by Beth Moran
❄️
❄️❄️❄️
.ePUB, 317 pages
Expected Publication: 30 Aug 2022
By: Boldwood Books
Amazon | GoodreadsAbout The Book:
After the end of a long-term relationship, local weather girl Bea Armstrong has been avoiding her family, and their inevitable 'I-told-you-sos.' But with Christmas fast approaching, she is finally on her way home to Charis House, the school in Sherwood Forest that her mum and dad run in their old family home. And to top it all off, the insufferable Henry Fairfax – who her parents have always wanted her to marry – has also been invited. Relief comes in the shape of a last-minute interview for her dream job. There are just a few minor problems… The interview is in Scotland, Bea has no car, and the snow is falling already. The only solution is for Henry to drive her – could this Christmas get any worse…But during an unforgettable two-day interview, a stay in a log cabin and a nightmare journey through the snow, Henry turns out to be nothing like she thought. And when Bea's first love and recent ex shows up, Bea has a difficult choice to make.
My Review: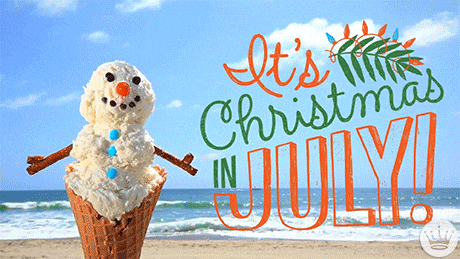 🎵🎶Oh, the weather outside is frightful...But the fire is so delightful
Since we've no place to go...Let it snow, let it snow, let it snow🎵🎶
This is my second Christmas in July book this year and it is also my second read by Beth Moran. I really enjoyed
Just The Way You Are
when I read it back in January. And just like that one, Let it Snow gave me all the feels. A little bit humourous, a little bit romantic, and a whole lot of fun. This enemies to romance hit the spot for me. The flashback paragraphs were some of my favourite parts as I loved getting to know Adam and Henry. I did not like Adam one bit, he was very selfish and self-centered.
The other characters were so wonderful, I want to be part of the Armstrong family. As much as Bea complained about them, you could tell she really loved them at heart. The mystery element of Nana Joy's past (who's your daddy?) was intriguing, to say the least, and the perfect touch of a little something extra. The Baxter house section during the interviews had me laughing out loud, what a hoot, and there were many great characters (or should I say caricatures?) there as well...Many of whom I loved to hate. I can't finish this review without mentioning the cover, it is adorable and I will definitely be picking up a physical copy for that alone.
If you enjoy cute, quirky books that are more than just a romance novel, especially ones with a Christmas theme, I highly recommend you pick this one up.
Disclosure:
Many thanks to NetGalley, Boldwood Books, and Beth Moran for the giving of the ARC.
#LetItSnow #NetGalley
My Reviews Can Also Be Found On: